Waltzes from the world of Vienna

Art and music in the Heitzmann fortepiano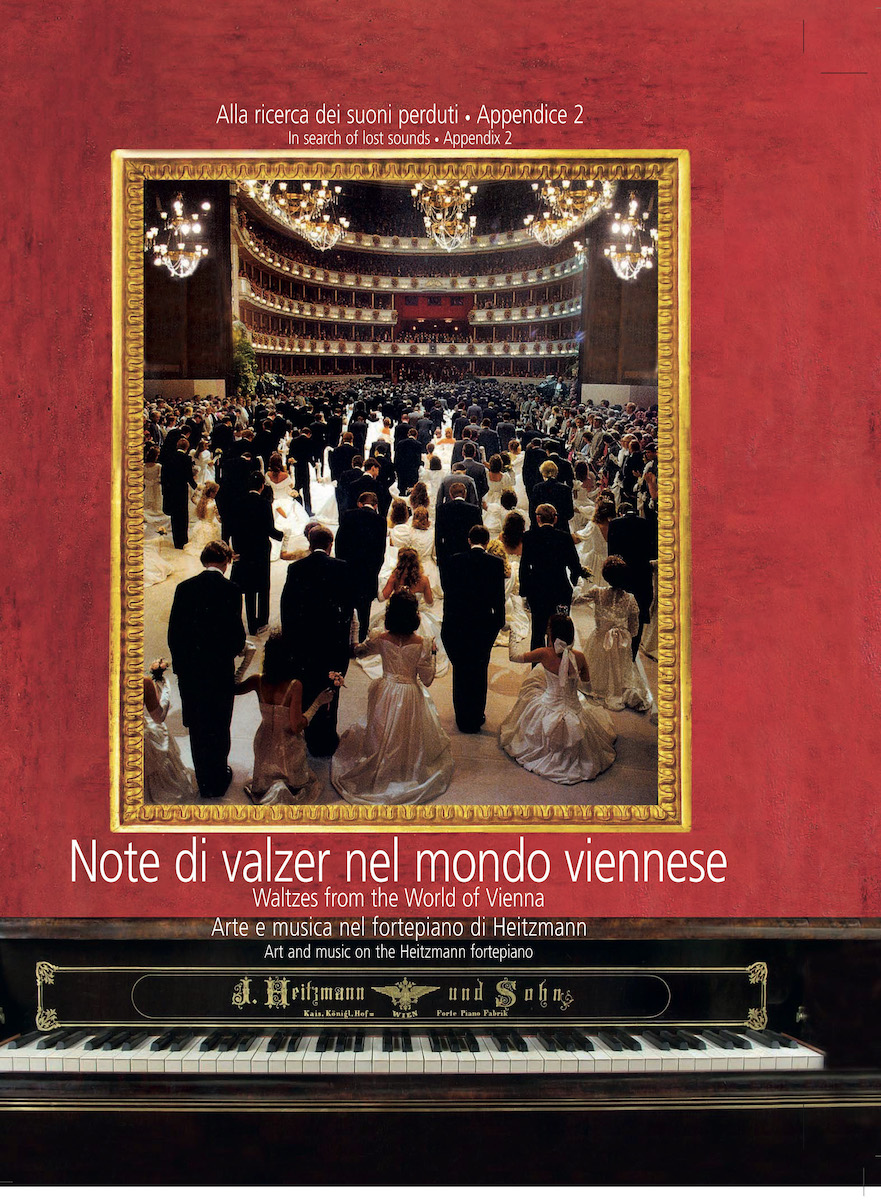 Collection catalogues
Waltzes from the World of Vienna
Appendix 2 to the catalogue In search of lost sounds
Art and music in the Heitzmann fortepiano
Authors: Lorenzo Arruga, Luigi Di Fronzo, Elena Previdi, Giovanni Paolo Di Stefano
Waltzes from the world of Vienna
Waltzes from the World of Vienna is the second appendix to the catalogue In search of lost sounds. An important instrument manufactured by Johann Heitzmann und Sohn, belonged to Luigi and Clementina Giulini and now part of the Fernanda Giulini collection, is presented. The themes of art and music, already main topics in the catalogue, are carried on in this new publication, which is dedicated to the Viennese maker Johann Heitzmann, and at the same time it is a study of Vienna at the Fin de siècle. Giovanni Paolo Di Stefano cured the organologic sheet of the instrument, made in Vienna around 1870, Lorenzo Arruga wrote an essay on the birth and development of the Viennese waltz from Schubert to Strauss, when many compositions were written to be played four-handed. Luigi Di Fronzo wrote an essay on music, culture and politics in Vienna at the turn of the century, when the Empire was started its decline even if art and music were flourishing anyway. Elena Previdi wrote an essay on the Viennese piano in the age of Franz Joseph. This publication includes a CD Waltzes for Four Hands from Schubert to Strauss. Francesca and Federica Badalini play on the Heitzmann fortepiano some very well-known waltzes, including the famous An der schönen blauen Donau by Strauss. This waltz has been transcribed for a four-handed execution at the piano by Francesca Badalini, pianist and composer.
Reservation and purchase
Waltzes from the World of Vienna was published by Villa Medici Giulini S.r.l. in 2009. To buy a copy please fill in the request form.
The book is bilingual: Italian and English.
Dimensions (mm) 240 x 300, 116 colour pages, 1 CD included, price € 70
ISBN: 978-88-95325-03-3