Conventions and meetings near Milan

An ideal place for meetings and training courses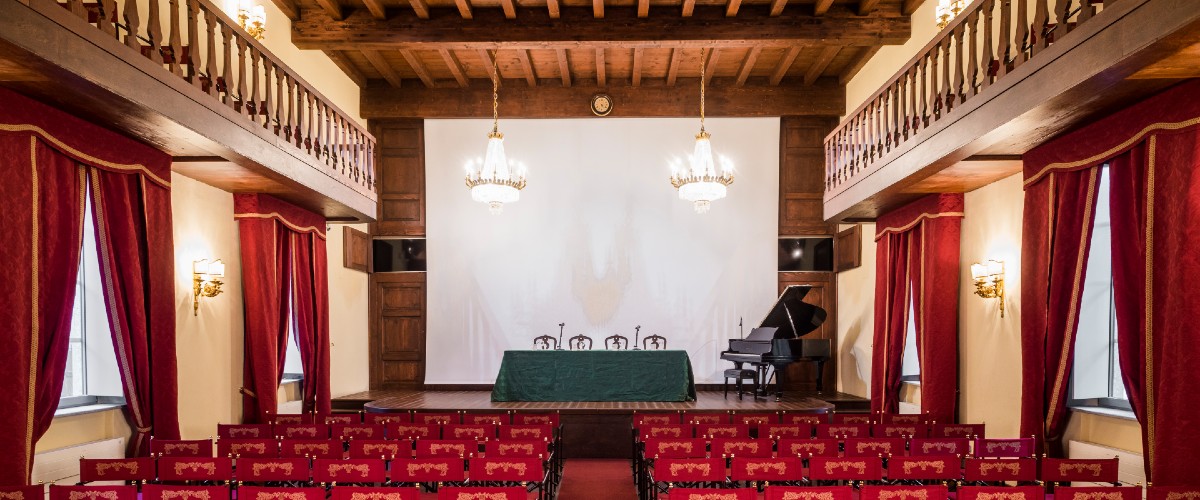 Villa Medici Giulini is an ideal venue for conventions, meetings, training courses, seminars, workshops, team building sessions and corporate events in general, thanks to its enviable location. The Villa is located just outside Milan, along the main road and railway networks, but immersed in the Brianza greenery.
A location for conventions and corporate meetings in Milan: a unique offer
Success of corporate events organized at Villa Medici Giulini will be guaranteed by the possibility of combining the historical context with the beauty of the environments, the scenography of a theater and the architectural spaces outside.
The Teatrino is a multifunctional hall that can be equipped as an auditorium or at horseshoe. The technology has as a base the internet connection, the possibility of projection on the big screen and simultaneously on two side monitors. A small room communicating with the Teatrino is equipped with a large monitor on which is replicated the projection taking place in the Teatrino.
The conferences can be held also in the Tuscan Organ hall, which can be set up as a horseshoe if necessary.
Spaces for corporate events do not end here: Villa Medici Giulini has several rooms for meetings of working groups, which could gatherat the end of the session in the plenary room.
The garden can be used during the good seasons. From June to September the access avenues of the garden are flowered with hydrangeas, in a colours blaze, from the white of the Annabelle to the intense pink that fades into red of the Leuchtfeuer.
Meetings can last for several days and guests have the opportunity to stay in the hotel of the property. Staying overnight in a Historic House, surrounded by greenery, rich in history and culture, completes the proposal making it truly unique.
The collection of instruments of Villa Medici Giulini is open on request and made available to guests, to create a musical event at the end of a working day.
In addition, a new team building experience consists in the possibility of offering guests a music lesson on a pair of modern pianos from the collection of instruments alternating with performance on a pair of high-tech Yamaha Clavinova, with the support of already recorded musical bases. The repertoire ranges from classical to jazz and electronic music. Hospitality therefore offers next to rooms intended for business meetings, moments of leisure in which you could live adventures always welcome. The theme "In serach of lost sounds" becomes an exceptional teaching tool and pleasant experience.
Corporate events are complemented with receptions, buffets, gala dinners.
Villa Medici Giulini: a Villa for exclusive corporate events
Villa Medici Giulini is the ideal solution for companies looking for an exclusive location for their events and conferences in Milan or around Milan. As we have seen, Villa Medici Giulini is a historical residence of great value, surrounded by greenery, in a historical and artistic context that has no equal.
A selection of conventions and events setting up