Ieuan Jones's mission has taken him around the world, transfixing audiences with his richly characterful playing – in Spain they dubbed him "Esplendoroso Jones". His flair is founded upon a solid basis of technique, acquired over years of study from the age of six to his studies at the Royal College of Music with Marisa Robles where he is now professor. In 1985 Ieuan left the Royal College of Music with all the major awards. He was also the joint winner of the Royal OverSeas League Competition…not since won by a harpist, and runner up at the Israel International Harp Competition. He has played for Royalty, Ambassadors, Prime Ministers and audiences all over the world. Ieuan was appointed Professor of Harp at the Royal College of Music in 1997. He is also a member of the Associated Board of the Royal Schools of Music's board of diploma examiners, and regularly appears on international competition panels world-wide. Ieuan tours the world regularly with his harp. He has performed in more than thirty countries, given concerto appearance with some of the world's leading orchestras, and has many recordings to his credit. His concerts have received standing ovations from the Concertgebouw to the Teatro Colon in Argentina, the Port Fairy, Barossa and Melbourne festivals in Australia to the Cultural Centre in Manila, City Hall in Hong Kong and many, many more.  2016 will see a unique recording of Schubert piano works transcribed for the harp called  `Schubert by Ieuan Jones' that will be presented in Italy 28 July 2016 in Villa di Vico, Florence. He played many recitals in harp duo with Emanuela Degli Esposti, in Italy and abroad.
www.ieuanjones.co.uk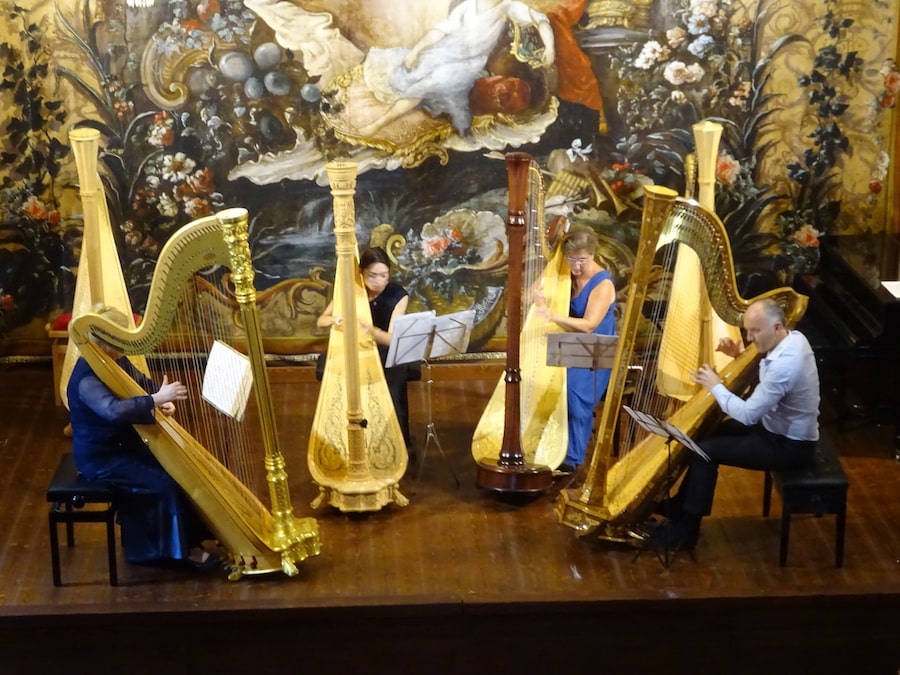 Emanuela Degli Esposti,
Harp Professor at the A.Boito Conservatory of Music in Parma, is artistic director of the International Contest and Festival "Suoni d'Arpa", Vice-president of the Association Conoscere la Musica and President of the Italian Harp Association. She studied harp with Prof. A.N.Schirinzi in Bologna Conservatory and at the Rubin Academy of Tel Aviv with Prof. J. Liber, and recorded several Album Fonit Cetra, Bottega Discantica and Tactus. As soloist, performed recitals in various Festivals in Italy and abroad, and plays in duo and quartet with the harpist Ieuan Jones. She played as 1st harp in the orchestras of Florence, Milan and Naples RAI, Swiss Radio of Lugano, performing with conductors such as Berio, Chailly, Delman, Ficher, Kuhn, Inbal, Mehta, Muti, Oren, Prêtre, and won the 1stPrize at the international chamber music competitions in Stresa and Palmi. Emanuela Degli Esposti published a book about C. P. E. Bach and edited f UT Orpheus Edition music for harp which have been included in the programs of international harp competitions such as International Harp Contest in Israel, International American Harp Competition, Franz-Josef-Reinl International Harp Contest in Munich, International Harp Contest Suoni d'Arpa. She is Director of the Leonardo Primavera Harp Orchestra and has been jury member in international harp contests such as Munich (1999), Israel (1998-2003), Marcel Tournier (2009-2012), Belgrade (2014), Novi Sad (2017), Rencontres Internationales de la Harpe en Ile de France (2017), International Slovenian Harp Contest (2019), St.Petersbour Cristal Key Harp Contest (2019). She has helds international master classes in Assisi, London Royal College, Lovere Tadini Academy, Belgrade Mokranjac Academy, Madrid Real Conservatorio Superior, Pipkov in Sofia, Riga Vītols Academy, Villa Medici-Giulini, Opera House of St.Petesbourg.
www.emanueladegliesposti-harp.com